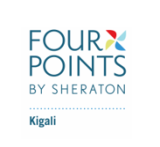 Multimedia content

Images

(3)

Four Points by Sheraton Kigali - Standard Room
Four Points by Sheraton Kigali - FP Social
Four Points by Sheraton Kigali - Exterior
Source: Marriott International, Inc. |
Four Points by Sheraton Debuts in Rwanda with the Opening of Four Points by Sheraton Kigali
Located In the Heart of The City, the 154-Room Hotel Is an Ideal Destination for Today's Modern Traveler
We are confident this hotel will set a new benchmark for hospitality within the country
KIGALI, Rwanda, July 4, 2022/APO Group/ --
Four Points by Sheraton (https://bit.ly/3R7c5Cg), part of Marriott Bonvoy's (www.Marriott.com) portfolio of 30 extraordinary hotel brands, announces the opening of Four Points by Sheraton Kigali, marking the brand's debut in Rwanda. Designed to appeal to both business and leisure travelers, the hotel offers a warm and welcoming atmosphere, approachable and relaxed design, and stylish comfort in the heart of the capital city.
With easy access from Kigali International Airport and just a few minutes away from the city's main embassies, the hotel sits in an enviable location and seamlessly blends vintage and modern design elements with distinct local touches to create a vibrant aesthetic and a compelling sense of place.
"We are very proud to work with Marriott International to bring the Four Points by Sheraton brand into Rwanda and we are confident this hotel will set a new benchmark for hospitality within the country," said Mr. Hatari Said Sekoko, Chief Executive Officer of New Century Development.
"I am thrilled that Four Points by Sheraton is set to be among the top contributors of Rwanda's tourism growth and am pleased the hotel has created more job opportunities for the local energetic youth and will support the growth of the country's tourism, hospitality, and conference and events sectors," said Mr. Matthias Widor General Manager, Cluster General Manager for Kigali Marriott Hotel and Four Points by Sheraton Kigali.
Signature global brand programing and the warm and welcoming atmosphere makes Four Points by Sheraton Kigali an ideal gathering place for guests and the local community to kick back and relax.
Designed for the modern traveler with an emphasis on delivering what matters the most, all 154 guestrooms offer magnificent views of Kigali, floor-to-ceiling windows, a 55-inch smart TV, ergonomic workspaces, and complimentary high-speed internet. The property comes complete with 12 Suites, including three Family Suites and one spacious Loft Suite for those looking to enjoy the company of family or friends.
The property features three distinctive dining venues offering a wide selection of global cuisine. The all-day-dining restaurant, FP Social, blends European and international cuisine with flavors from East Africa while the snack bar, Brew Bar, has a menu of light snacks and the brand's signature Best BrewsTM program which offers local craft beers on tap. Guests can also enjoy a variety of cocktails, fresh juices, or light bites at Coco Fizz, the pool bar terrace.
A place for business and leisure, Four Points by Sheraton Kigali offers more than 700 square meters of dedicated meeting space featuring nine flexible meeting rooms including a 314-square-meter ballroom that can cater for up to 200 guests. All meeting rooms are equipped with sophisticated AV facilities and endless connectivity through high-speed WiFi. With creative menu options and thoughtful service, the hotel provides both choice and flexibility, making it an exclusive option for medium scale business meetings, social events, weddings or smaller intimate gatherings.
Leisure amenities include a state-of-the art fitness center with cutting-edge equipment available 24 hours a day, a spa and an outdoor pool for guests to relax and recharge for the day.
Four Points by Sheraton Kigali is Marriott International's second property in Rwanda.
For more information on Four Points by Sheraton Kigali, please visit Marriott.com/kglfp.
Distributed by APO Group on behalf of Marriott International, Inc..
Social Media:
Facebook: https://bit.ly/3P0J757
Twitter: https://bit.ly/3yCYkEg
Instagram: https://bit.ly/3yenaca
About Marriott Bonvoy®:
Marriott Bonvoy, Marriott International's award-winning travel program and marketplace, gives members access to transformative, eye-opening experiences around the corner and across the globe. Marriott Bonvoy's portfolio of 30 extraordinary brands offers renowned hospitality in the most memorable destinations in the world. Members can earn points for stays at hotels and resorts, including all-inclusive resorts and premium home rentals, as well as through everyday purchases with co-branded credit cards. Members can redeem their points for experiences including future stays, Marriott Bonvoy Moments, or through partners for luxurious products from Marriott Bonvoy Boutiques. With the Marriott Bonvoy app, members enjoy a level of personalization and contactless experience that allows them to travel with peace of mind. To enroll for free or for more information about Marriott Bonvoy, visit MarriottBonvoy.com. To download the Marriott app, go here (https://bit.ly/3NHMpcH).
About Four Points by Sheraton®:
Four Points by Sheraton is a global brand with over 295 hotels in 43 countries and territories. At Four Points, travel is reinvented where timeless classics are woven with modern details, paired with genuine service in a casual environment—all around the world. Four Points hotels can be found in the heart of urban centers, near the beach, by the airport, or in the suburbs. Each hotel offers a familiar place to kick back and relax with an authentic sense of the local, where guests can watch sports and enjoy the brand's Best Brews® program. Four Points is proud to participate in Marriott Bonvoy®, the global travel program from Marriott International. The program offers members an extraordinary portfolio of global brands, exclusive experiences on Marriott Bonvoy Moments (https://bit.ly/3yfenGT) and unparalleled benefits including free nights and Elite status recognition. To enroll for free or for more information about the program, visit MarriottBonvoy.com. To learn more about Four Points, visit us online (https://bit.ly/3R7c5Cg).